Luxury Car Rental
For luxury car hire - look no further than Auto Europe. We have partnered with trusted suppliers to bring you the ultimate selection of high end, specialty and prestige vehicles throughout Europe. Enjoy life's luxuries such as driving a BMW 7 Series along Costa del Sol or zipping along Germany's Autobahn in a Ferrari Berlinetta.
Treat Yourself: Book a Luxury Ride for a Luxury Drive

Indulge in the luxury of first-class comfort on your next car hire, with a choice of brands such as Aston Martin, Audi, Bentley, Ferrari, Lamborghini, Maserati, Mercedes, Porsche, Range Rover and more.
Spoil yourself and finally start ticking off your bucket list - starting today! Our specialised department will do whatever possible to ensure we can get the car you need, when and where you need it. No request is too big or too small, and we are here to help you every step of the way.
To get started, simply use the booking form on the left to search for your luxury car rental. If you can't find the exact luxury car or location that you are looking for, or if you have a special request please feel free to contact our reservations department on 0800 885 052. We are here to answer any questions and help you drive your dream car today!
Get Inspired: A Handful of Our Most Popular Luxury Rental Models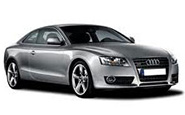 Audi A5
With front-wheel drive and expert handling, the Audi A5 is a thrill to drive. This luxury sedan can push speeds well but is known for its executive interior & body styling.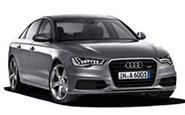 Audi A6
The Audi A6's efficient engine and sleek styling make for a performance-driven ride with maximum practicality in mind - something that luxury sedans are known for.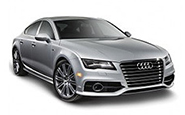 Audi A7
The Audi A7's unique shape is known as a Sportback - something that actually comes from under the hood and not just from the sleek styling of the back slant on the rear of the body.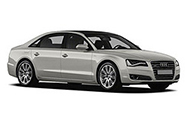 Audi A8
A sporty sedan with a spacious and luxurious interior, the Audi A8 has a sassy 333HP engine and excellent fuel consumption, making it one of our most popular choices for savvy European travellers who want an efficient yet powerful ride during their trip.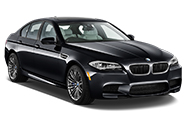 BMW 5 Series
The BMW 5 Series is perfect for both families and those looking to travel around in style. The body and handling are both extremely tight with a powerful engine under the hood as well.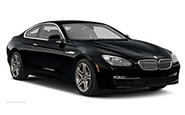 BMW 6 Series
This sedan has a spacious interior as well as impressive styling. The 445 HP engine helps to give this vehicle some gusto for great driving on Europe's motorways and in town.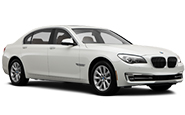 BMW 7 Series
The BMW 7 Series is a sturdy and elegant luxury sedan in a class of its own. With a V-6 engine that's capable of up to 450 HP, this four-door vehicle drives smoothly and features climate control and a plush interior for a comfortable ride.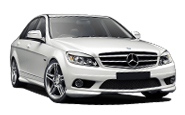 Mercedes Benz C Class
When it comes to luxury sedans, there are few names as well known as Mercedes Benz. The Mercedes C Class group of vehicles provides safety and perfected handling in addition to up to 362 HP from a V-6 engine.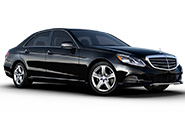 Mercedes Benz E Class
The Mercedes E Class gets excellent mileage and drives with some punch with a strong 400 HP engine. This luxury sedan is a four-door model.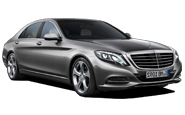 Mercedes Benz S Class
With a powerful V-8 engine and world-class performance, the Mercedes S Class has elegant styling and a plush interior for a truly upscale drive. A great choice for drivers who appreciate class, sophistication and style.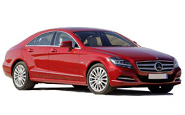 Mercedes Benz CLS
A sleek shape and attention to detail make the deluxe Mercedes CLS a true statement of luxury. The 400 HP engine gives it the power to push speeds on Europe's roadways while the classic, stylish Mercedes interior needs no introduction.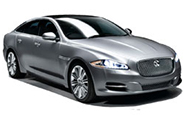 Jaguar XJ
The contoured body of the Jaguar XJ makes for a stylish ride around any European destination. With four doors and max. seating five, this stylish car is a great option for families that value style.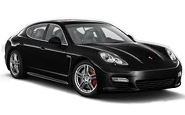 Porsche Panamera
Another luxury sedan with a sporty back slant, the Porsche Panamera comes in both a rear-wheel and 4-wheel drive version with a spacious and luxurious interior our clients love. Snap some memorable photos alongside this beauty!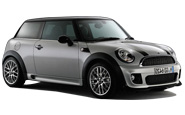 Mini Cooper
Compact yet also very luxurious, the Mini Cooper has a low profile and size on its side, allowing for parking in tight spots or motoring down the roadways in sporty style.
---
Start Here, Go Anywhere: More About Luxury Car Rental in Europe
What better way to compliment your world-class trip than with a luxury car. At Auto Europe, we pride ourselves on our ability to offer fantastic luxury rental cars in Europe and around the world. Whether you are looking for a vehicle for a special occasion like a wedding or reunion or you simply want to drive the ultimate in high-end sports cars on the Autobahn in Germany, trust us to enhance your special occasion or trip.
We are proud to offer experiences that you will never forget and always ensure that you receive a first-class drive. Book online using our secure three-step booking engine and you will be on the road in no time at all! If you would prefer to arrange your luxury car rental over the phone, our dedicated prestige agents are available toll-free at 0800 885 052.
---
Booking Your Luxury Car Rental with Auto Europe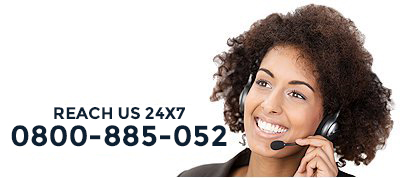 With Auto Europe, you can book a luxury car hire at your choice at one of our 24,000 locations offered worldwide. Arranging your reservation is simple and convenient with our secure online booking engine and we additionally offer excellent, 24/7 live customer service featuring award winning reservation specialists available at 0800 885 052.
Feel welcome to refer to our team with any questions and let us help you take the next step in planning your dream holiday. We specialize in rare, high-end luxury rental cars and affordable sports car rentals in Europe and worldwide - trust Auto Europe to help you arrange your perfect luxury car hire in Europe.