Car Rental Melbourne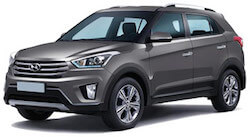 Melbourne is surely one of the finest cities in Australia. The city possesses an intoxicating blend of European-influenced culture, architecture, hospitable locals and world-famous cuisine, which make it an irresistible and unmissable destination for any visitor to the state of Victoria. Amble along the city's stately, tree-lined boulevards and savour Melbourne's highly acclaimed coffee in one of the many cafés on Degraves or Brunswick streets. Get a thrill on the rides at Luna Park in the trendy neighbourhood of St. Kilda, before attending an Australian Football League or cricket match in this sports-crazed city. Shop in the Queen Victoria Market, recognised as the largest open-air market in the southern hemisphere, then check out the Melbourne Museum or Ian Potter Centre at Federation Square.
Melbourne is the perfect base to explore the rest of Victoria. Drive east to the beautiful towns on the Mornington Peninsula or Phillip Island to witness the Penguin Parade. Glide along the Great Ocean Road to see the famous Twelve Apostles that line this unforgettable drive. You can also venture to Grampians National Park, just over three hours away, or go wine tasting in the esteemed Yarra Valley, located one hour northeast of the city. Whatever your interests, Melbourne and the surrounding areas are an excellent holiday destination.
---
Convenient Locations in Melbourne
Our car hire suppliers in Melbourne include Hertz, Eastcoast, Europcar and Alamo.
Auto Europe has suppliers conveniently located at Melbourne Tullamarine Airport. We also have depot locations throughout the city. If you are flying into Avalon Airport, please select Avalon from the drop-down menu in the search form. If Auto Europe has available vehicles from our Avalon Depots, the location will appear and be available to search. Enter your details in the search form to find the best rate and location for your next holiday in Melbourne.
Parking meters are stationed throughout Melbourne's city centre, though they can charge up to A$3.50 per hour. Private car parks are also available throughout the city. As with many cities, the CBD can be congested and difficult to park during the day. If you opt to park at your hotel or in a long-term car park while you explore the city, Melbourne's public transportation system is excellent and easy to use.
All toll roads in Victoria will be marked with blue signs on the highway. The state of Victoria is on the CityLink program and only uses electronic toll payment. Most car hire providers will have this all set up and will automatically charge for any tolls costs incurred during the car hire period. Check with your Auto Europe Australia reservations specialist or car hire provider for more details.
---
Frequently Asked Questions about Hiring a Car in Melbourne
What is a hook turn in Melbourne?
A hook turn is a right-hand turn you make from the left-hand lane. This type of turn is only valid in the city of Melbourne and was introduced to ensure trams and other vehicles on the road work cohesively together with minimal disruption. To learn more about these turns and other road rules and regulations, visit the VicRoads website.
Do I have to slow down when I pass the police in my vehicle in Melbourne?
By law, you must slow down to 40km/h when passing a stationary or slow-moving emergency services vehicle when they either have their siren on or their lights are flashing. If you would like any further information the official VicRoads website goes into more depth.
Can I take my rental car to the snow in Victoria?
Most suppliers will let you take your rental car to the snow as long as the car is equipped with winter tyres or fitted with snow chains. You will need to check with the supplier before you pick your hire car as there is an additional cost for this. If you would like to know any more information, contact us on 1300 656 601 to find out more.
To view more, visit our FAQs page.
---
Useful Driving Distances and Day Trip Ideas in Melbourne
Melbourne to Melbourne Tullamarine Airport (20km approx. 25min)
Melbourne to Avalon Airport (Melbourne) (55km approx. 45min)
Melbourne to Mornington Peninsula (75km approx. 1hr)
Melbourne to Phillip Island (140km approx. 1hr 50min)
Melbourne to Grampians National Park (265km approx. 3hr 20min)
Melbourne to Yarra Valley (60km approx. 1hr)