Car Rental Ballina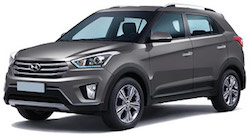 Located at the mouth of the Richmond River, Ballina is surrounded by stunning beaches, estuaries and headlands. It is hard to miss Ballina's Big Prawn, standing over six metres tall on the southern side of the city. Drive up to the Rotary Lookout for spectacular, sweeping views of the coast. Due to its ideal location, Ballina is the perfect place for a holiday full of boating, fishing, bushwalking and surfing the area's famous beaches. The Naval Museum and Maritime Museum in Ballina are great places to learn of the town's significance in Australia.
The surrounding area offers many unique attractions, as well as fantastic scenic drives. Thursday Plantation is a short trip from the city, and is the first tea tree plantation in the world, pioneering the use of this local Australian plant as a medicinal product worldwide. Also recommended is Tropical Fruit World, a short drive north of the town where visitors can sample amazing exotic fruits. From Ballina, head to Byron Bay or the Gold Coast.
---
Convenient Locations in Ballina
Our supplier depots are conveniently located at Ballina-Byron Gateway Airport, as well as downtown Ballina. Explore the interactive map in the search form to find which depot is convenient for you to pick up your car hire.
In terms of parking, street parking and car parks are available in Ballina. It is common in Australia to have tag or video/plate accounts for tolls, but if you're only using the toll roads occasionally, there are options to pay without opening an account. The Queensland government advises contacting the appropriate toll payment providers to make arrangements. Toll passes can be purchased at designated convenient stores and gas stations and should run between $6-15, depending on the trip.
---
Frequently Asked Questions About Hiring a Car in Ballina
How far is Ballina from Byron Bay?
It is only about a 30-minute drive from Byron Bay to Ballina.
What airport is in Ballina?
The Ballina Byron Gateway Airport is the airport in Ballina and only about a 5-minute drive into the main town centre.
When is the best time to visit Ballina?
The best time to visit Ballina is from September through to April where the weather is the most reliable. If you're wanting to avoid any big crowds either side of the Christmas holidays are great times to go.
To view more, visit our FAQs page.
---
Useful Driving Distances and Day Trip Ideas in Ballina
Ballina to Ballina-Byron Gateway Airport (5km approx. 10min)
Ballina to Gold Coast (113km approx. 1hr 30min)
Ballina to Bryon Bay (30km approx. 30min)
Ballina to Brisbane (189km approx. 2hr 5mins)
Ballina to Sydney (740km approx. 9hr)