Car Rental Darwin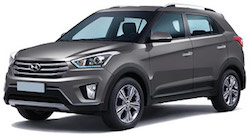 Named after the famous scientist Charles Darwin, this tropical capital city of the Northern Territory is home to many rare plants and animals found nowhere else in the world. The Mary River National Park is a great place to spot crocodiles, as billabongs around the river are home to the highest concentration of saltwater crocs anywhere in the world. If you are daring enough to get up close and personal with these sharp teethed creatures then visit Crocosaurus Cove to see not only saltwater crocs but also a large display of Australian reptiles.
There are many historical sites in Darwin, including World War II Storage Tunnels that are hidden beneath the city's surface, as well as the East Point reserve where you can watch footage of the Darwin bombings. The Adelaide River War Cemetery is the final resting place of over 400 military personnel and civilians involved in the war effort and surrounded by lush gardens.
The Mindil Beach Sunset Markets are the perfect place to watch a famous Darwin sunset. Bring a blanket, a cold drink and try a plate of one of the delicious cuisines available. Finish the night with chocolate filled donuts, yum! If you'd prefer to relax with a Thai massage and pick up homemade mango chutney then head down to the Rapid Creek Sunday Markets. The main shopping district in Darwin is centered around the Smith Street Mall and incorporates the surrounding streets. Shopping experiences here include Aboriginal art, crocodile-skin products and world-class peals. Some of the best eateries are located in the CBD, where there is an array of international and local restaurants to suit everyone's budget.
To relax with a picnic, head to the George Brown Darwin Botanic Gardens which has a spectacular showcase of local flora, monsoon forests and open woodlands. Another favourite picnic spot amongst the locals is Lake Alexander where you can enjoy a day of swimming, a game of volleyball with friends or let the kids entertain themselves on the play equipment.
Take a day trip to Berry Springs Nature Park, just under an hour drive from Darwin city centre. Visitors can spot fish and other aquatic life whilst swimming, bird watch with a pair of binoculars or hike through the forest. Kakadu National Park is an Australian landmark with thousands of Aboriginal rock art sites and is the biggest national park in the county. Thrill seekers must visit the Katherine Gorge which has an incredible landscape that sets the perfect backdrop for activities such as fishing, canoeing, bird watching and four-wheel driving. The Litchfield National Park boasts beautiful waterfalls surrounded by sandstone cliffs. The main attractions here are the waterholes which are perfect for swimming and the wildlife cruise along the majestic Reynolds River. It is definitely worth staying here for a few days.
---
Convenient Locations in Darwin
Our car hire suppliers in Darwin include Hertz and Thrifty. Depots are conveniently situated at the Darwin Domestic and International Airports as well as various locations throughout the city.
All parking throughout Darwin's CBD is controlled by parking metres with costs ranging between $1.20 and $2.40 per hour depending on your proximity to the main shopping and business precinct. Parking metres are in operation on weekdays between the hours of 8am and 5pm and parking is free on weekends. There are numerous car parks scattered throughout the city which offer all-day parking for a price upwards of $3.
---
Frequently Asked Questions about Hiring a Car in Darwin
How far is the drive to the Darwin Airport from Darwin CBD?
It's about a short 15-20 minute drive from Darwin Airport to Darwin CBD.
What is the best time to visit Darwin?
Between May - October during the dry season would be the best time to visit Darwin as the average temperature throughout the year is 32°C and this is the coolest time of the year.
How old do I have to be to rent a car in Darwin?
In Darwin you must be at least 20 years old to rent a car. However, the age may vary by the car category. Some suppliers have a maximum age limit of 75 years and a young driver surcharge so please be aware of the terms and conditions.
To view more, visit our FAQs page.
---
Useful Driving Distances and Day Trip Ideas in Darwin
Darwin to Darwin Airport (12km approx. 15min)
Darwin to Kakadu National Park (150km approx. 2hr)
Darwin to Katherine Gorge (345km approx. 4hr 30min)
Darwin to Litchfield Park (115km approx. 1hr 45min)
Darwin to Berry Springs Nature Park (55km approx. 50min)