Car Rental Port Douglas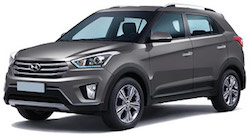 Situated between two UNESCO World Heritage Sites, those lucky enough to visit Port Douglas will experience scenery unlike anywhere else in the world. Much smaller than its neighbour Cairns to the south, Port Douglas is the perfect place to avoid the crowds and unwind under the palm trees. This resort town carries the vibe of a Caribbean village - relaxed, colourful, hospitable and absolutely breathtaking. Mangos grow in the streets and the palm trees are taller than most houses in Port Douglas. Hike or drive up to Flagstaff Hill, also known as Island Point, where you can get incredible views of Four Mile Beach. On Sunday, browse the Port Douglas Sunday Markets and enjoy a cocktail at the Court House Hotel, the town's first pub, built in 1878. There is ample opportunity for rest and relaxation in Port Douglas, as well as a variety of activities all just a short drive away.
If you choose to venture out of Port Douglas to explore the surrounding areas, the Daintree Rainforest and Great Barrier Reef, both UNESCO World Heritage Sites, should be at the top of your list. Snorkel, scuba dive or fly over the Great Barrier Reef, the largest coral reef in the world and home to over 1,500 species of fish, as well as birds, sea turtles and many more ocean creatures. The Daintree Rainforest is the oldest tropical lowland rainforest on Earth, believed to be more than 135 million years old. The Rainforest hosts a number of unusual animals, insects and plants, including some of the world's largest tropical trees. While here, make sure to see the Mossman Gorge, located in the southern part of Daintree National Park.
---
Convenient Locations in Port Douglas
If you are planning on travelling to Port Douglas, your first port of call is Cairns. Port Douglas is approximately a one hour drive from Cairns Airport. Auto Europe has suppliers conveniently located at the Cairns Airport, as well as several locations around the city for you to collect and return from. These suppliers include Thrifty, Europcar, Hertz and Alamo.
Port Douglas is small and easy to walk around once you've arrived. Depending on the day and season, street parking can be tight, but parking garages are available and many hotels offer parking for guests.
It is common in Australia to have tag or video/plate accounts for tolls, but if you're only using the toll roads occasionally, there are options to pay without opening an account. The Queensland government advises contacting the appropriate toll payment providers to make arrangements. Toll passes can be purchased at designated convenient stores and gas stations and should run between $6-15, depending on the trip.
---
Frequently Asked Questions About Hiring a Car in Port Douglas
How far is Port Douglas from Cairns?
Port Douglas is just over an hours drive to Carins, perfect for a day trip in your car rental from Port Douglas.
When is the best time to visit Port Douglas in Queensland?
Port Douglas has beautiful weather all year round however, April - October will be the best for those wanting to get in the water and have a swim!
Is there an airport in Port Douglas?
Although Port Douglas itself does not have an airport, Cairns Airport is the closest airport to Port Douglas and about an hours drive away.
To view more, visit our FAQs page.
---
Useful Driving Distances and Day Trip Ideas in Port Douglas
Port Douglas to Cairns Airport/Great Barrier Reef (65km approx. 1hr)
Port Douglas to Daintree National Park (20km approx. 20min)