Car Rental Airlie Beach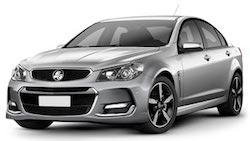 A young town, settled just over 100 years ago, Airlie Beach has emerged as a paradise for travellers, wishing to escape the big cities and enjoy the tropical way of life. Located on the Whitsunday Coast of Queensland, the town is popular with visitors all year round. The town is found amongst lush forests, with local laws prevent any highrise buildings or apartment blocks being built, keeping the development of the area to a minimum and embracing the local environment. With plenty of attractions and things to do, Airlie beach is a highly recommended destination for a holiday, especially with a car hire.
Airlie Beach is one of the few coastal towns or cities in Australia that face the north. The result of this is maximum sunshine all year round. The area offers stunning beaches with crystal clear water, however due to poisonous jellyfish, swimming is highly discouraged between November and May. The local council however, has built a large saltwater lagoon by the shore, where locals and visitors can swim and cool off on hot days. Alternatively, drive your car hire a short distance south to Conway National Park, where you can see Cedar Creek Falls, and cool off in rainforest waterholes.
With the Whitsunday Islands a short boat trip away, Airlie Beach is known as the "Gateway to the Whitsundays" where some of the most breathtaking islands and reefs await. Drive your car hire down to the marina, and hop on board a cruise which will take you out for a day on the water. Other popular water activities include water skiing, kayaking and fishing, all of which are perfectly suited to the area. Being a town specifically catering for tourists, there is never a dull moment. Bars and restaurants line the main street and each night fill with visitors to the area. On Saturdays the foreshore turns into a local market, with local produce, arts and crafts all available.
---
Frequently Asked Questions About Hiring a Car in Airlie Beach
When is the best time to travel to Airlie Beach?
The best time to visit Airlie Beach is during Summer from November to December as you'll miss out on bigger crowds during the peak season during September and October. Although, Airlie Beach is beautiful all-year round.
How far is Airlie Beach from Hamilton Island?
Hamilton Island is only 27km from Airlie Beach which is about a 1-hour away on a ferry.
Is there an airport in Airlie Beach?
Airlie Beach itself does not have an airport although the Whitsunday Coast Airport is only 30-minutes away and Hamilton Island has an airport which is accessible via a ferry.
To view more, visit our FAQs page.
---
Useful Distances and Day Trip Ideas in Airlie Beach
Airlie Beach to Proserpine 25km
Airlie Beach to Proserpine Airport - 37km
Airlie Beach to Bowen - 79km
Airlie Beach to Mackay - 150km
Airlie Beach to Conway National Park - 6.5km
Airlie Beach to Barefoot Bushman Wildlife Park - 8km