Car Rental Spain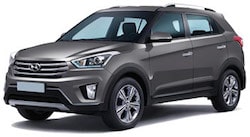 Booking your car hire in Spain has never been easier than with Auto Europe. With such a large number of top suppliers, you can compare them all to ensure you receive the best price to suit your budget. Auto Europe have driven around the world and granted access to some of the best worldwide deals and bargains, so book online or call us today!
Popular Transportation Terminals with Car Hire Services in Spain
By partnering with leading suppliers in the car hire industry, Auto Europe ensures that their customers are able to hire a car from any major transportation centre throughout Spain, including airports and rail stations. do and see more of the Spanish countryside, or cities during your stay in Spain. To reserve your car today, simply utilise the booking engine at the top of the page.
Book with the Top Car Hire Suppliers in Spain
Auto Europe works with the top car hire suppliers who do business in Spain in order to provide a great experience for our customers. We have been working with the top, trusted suppliers in the industry, including Avis, Europcar, Hertz and Enterprise, for over 60 years and our unique relationships with these suppliers allow us to provide our clients with fantastic rates. Compare rates between suppliers using our booking engine above, find the ideal car hire for your travel plans and see why you should book with Auto Europe.
---
Frequently Asked Questions about Car Hires in Spain
Can I hire a car with unlimited mileage in Spain?
Yes, most car hire suppliers in Spain offer unlimited mileage options. Restrictions may apply on luxury and SUV hires, however, this varies depending on the car hire supplier.
Is car hire insurance required in Spain?
In most European countries, third party liability insurance is required to drive your car hire off the lot. To make the auto hire process as hassle-free as possible for our clients, all Auto Europe car hire rates include both third party liability and fire insurance - so, you can pick-up your hire with ease and be on your way.
Why book a car hire in Spain with Auto Europe?
Auto Europe has over 60 years of experience in the car hire industry and works with the top, trusted suppliers in Spain. Our relationships with these suppliers allows us to offer our clients with fantastic rates within the industry and offer 24,000 pick-up locations worldwide. With great rates and 24/7 live customer service, look no further than Auto Europe for your car hire needs in Spain.
---
Driving in Spain
There is no other to explore the vibrant and culturally rich country of Spain than in a car hire booked with Auto Europe. Spain boasts a well-maintained system of roads making it easy to travel from vibrant city to charming villages as well as travelling along the breathtaking coastline. Visit the lively beaches of Costa Del Sol and Majorca, or listen to the unforgettable sounds of flamenco in Seville, wonder at the stunning architecture in Barcelona and Toledo.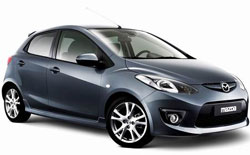 From Barcelona to Santiago to Valenica, having a car hire makes viewing Spain easy. Make time to stop off at the Tower of Hercules a lighthouse which has been standing, and functioning, since 98 - 117AD. The structure is 55 metres tall and offers a stunning view of the North Atlantic coastline of Spain.
Spain has many national parks, stop off at the Picos de Europa or the Parque de la Naturaleza de Cabarceno to get back in touch with nature. Visit the regions that are located in these parks and view Spain in a way that only the locals do, all while in the comfort of your own vehicle hire.
Country Essentials
With the driver sitting on the left-hand side of the vehicle, the Spanish drive on the right-hand side of the road, which is the opposite of how you normally drive in New Zealand. Since it is different from what you might be used to we advise you take some time to get used to driving on a different side of the road and familiarise yourself with the vehicle and controls before driving off. The speed limit in Spain varies. On motorways, the speed limit is 120km/hr and in built-up areas it is usually 50km/hr
A popular option with our New Zealand clients is to travel with children. Children need to be over the age of 12 years and over 1.35m before they can travel without a car seat. We are happy to provide you with a child seat, which will be available with your vehicle hire on arrival or feel free to take your own. In addition to a full, valid New Zealand's driver's licence an International Driving Permits is required to drive in Spain. For additional information on driving in Spain, we encourage our clients to refer to our specialised Spain Driving Information page.
Standard Inclusions
Auto Europe includes the Collision Damage Waiver (CDW) and Theft Protection in Spanish car hire prices. The CDW and theft protection reduce the liability and excess of the driver to a capped amount. Fire insurance is also included in the price of your car hire. Excess Refund Insurance can be purchased from Auto Europe when you make your booking. This insurance refunds your excess costs up to $5000 should any damage occur to the vehicles over the duration of your auto hire.
Licence Requirements
The minimum driving age in Spain is 18, however, most car hire companies impose a minimum driver age of 21. The driver must hold a full New Zealand driver's licence and there is an additional fee for drivers' under 25 years of age with most car hire suppliers, this is to cover higher insurance premiums. Most suppliers have strong no upper age limit providing you hold a full drivers licence.
Tolls and Freeways
There are two types of motorways in the Spanish motorway network, these are 'autopistas' and 'autovias'. Autovias are not toll roads and Autopistas are, these are easily recognised as they are ladled with an A. Please watch out when driving because the autopistas can have quite high tolls compared to other European motorway networks. If desired, you can avoid most of the toll roads, as only about one-fifth of the motorways are tolled.
Border Crossings
With internal borders fading it is now very straightforward to drive through all of Western Europe with very little complications. Border crossings are simple thanks to tourism VISA waiver programmes and the evolution of the EU. Some suppliers and vehicle types, such as luxury cars, have restrictions in place when it comes to crossing borders. Always make sure to check your itinerary at the time of booking to make sure border crossing is permitted with the supplier and car type you would like to hire. Please note if you are planning to drive your car to Eastern Europe there may be restrictions and/or additional costs, and you must say at the time of booking and picking up the car from the supplier. The costs are usually to cover increased insurance premiums.
Driving Distances
Madrid to Barcelona (621km approx. 5hr 45mins)
San Sebastian to Santiago de Compostela (680km approx. 6hr 40mins)
Madrid to Granada (419km approx. 4hr)
Alicante to Valencia (179km approx. 1hr 50mins)
Car Hire in Spain with Auto Europe
Book your car hire in Spain with Auto Europe over our safe, reliable and secure online booking system. Our exceptional customer service and Beat Rate Guarantee assure the best savings and quality of service on your car hire. For more information, read our Car Rental FAQ page, read our Terms and Conditions, or Contact Us.
---
Spain Driving Inspiration
To make your Spain self-drive adventure that little bit easier we have a range of resources to assist! You can download Auto Europe's Spain Travel & Driving Guide for free which provide useful information and touring ideas to create your own holiday itinerary or for the latest and greatest in Spain events and itineraries check out our blog.
---
Additional Transportation Services in Spain
No matter what your travel plans are, Auto Europe can provide the ideal mode of transportation. We take pride in providing our customers with affordable, and competitive rates in the industry for their transportation needs. Use our booking engine at the top of the page to compare daily car hire rates with luxury, motorhome, van or any type of transportation to find the ideal option for you and your travel party.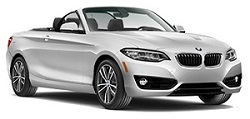 Luxury Car Hire Spain
- Take to the streets of Spain in style with a luxury car hire. Compare rates between Mercedes, Audi, Porsche, Maserati, and more to find the ideal vehicle for your trip to Spain. Start comparing rates for your trip today!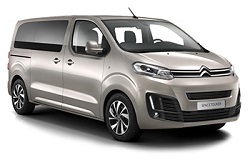 Van Hire Spain
- Customers travelling in large parties or transporting large/heavy luggage may find a van hire the ideal option for their time in Spain. Auto Europe has great rates on small, medium and large van hires in Spain. Find rates, capacity, detailed specs and more with Auto Europe.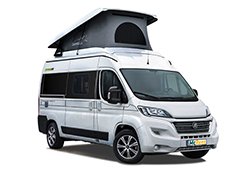 Spain Motorhome Hire
- A motorhome or RV hire unlocks a whole new level of opportunity and exploration for your trip to Spain. With many safe and accommodating locations to pitch and explore it is no surprise motorhome hires in Spain are on the rise!