Car Rental Suppliers: Buchbinder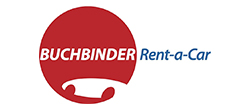 Buchbinder was founded in 1990, and specialises in car rental within several European countries, including:
There are more than 130 Buchbinder branches in Germany alone; including the capital Berlin, Munich, Frankfurt, Cologne, Düsseldorf, Dresden and Hamburg. Along with a huge fleet of vehicles to choose from, Buchbinder also offers their clients outstanding customer service. This local car rental agency has a well established history of serving travellers in Europe and we've selected them as one of our suppliers because of their reputation for providing customers with more than what they expect.
Enjoy special low rates on Buchbinder car rental when you book with Auto Europe. We know you're sure to enjoy the experience and continue to use Buchbinder again in the future. Thousands of travellers book their Auto Europe rental with Buchbinder every year because they've come to count on the company to provide them with low prices, exceptional service and a whole lot more!