Car Rental Suppliers: Ezi Car Rental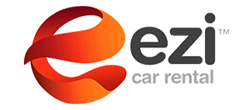 Ezi Car Rental is the largest 100% Kiwi owned and operated rental car operator in New Zealand. Established in 1998, they have over 25 years experience in the car rental industry. Their aim is to be the very best car rental company in New Zealand - always delivering the very best cars, undeniable value and service that they are proud of. Their team of over 100 passionate individuals are dedicated to providing the best experience possible and will always make you feel welcome.
Auto Europe are proud to partner with Ezi Car Rental, you will find them at the major gateway hubs in New Zealand such as:
We trust that they will provide our customers with the high standards of customer service that we expect from our supplier partners, as we share the same passion for self-drive holidays. Keep an eye out for the Ezi Car Rental logo when you search and compare car rental in New Zealand - the team look forward to welcoming you with a big Kiwi smile!