Car Rental San Francisco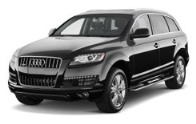 San Francisco is famous for its beautiful Golden Gate Bridge, nostalgic cable cars, and diverse population. The city has much to offer in the way of entertainment, from the San Francisco Ballet to the famous concert venue, The Fillmore, which has hosted acts including the Grateful Dead, Jimi Hendrix and Pink Floyd. World class museums such as the Museum of Modern Art and the California Academy of Arts and Sciences are great attractions to visit while in San Francisco.
Another reason to choose a car hire in San Francisco is its proximity to several other world-class destinations. With a discount car hire in San Francisco, you will find yourself only an hour and a half drive from beautiful Monterey Bay. Or, you may choose to spend a day or so enjoying the spectacular Pacific Coast Highway on your way to Big Sur, another 160 kilometres south of Monterey Bay. Or, if you enjoy wine, the famous California Wine Country is only an hour's drive north of the city.
Another must-see attraction in San Francisco is the abandoned prison, Alcatraz, which housed such famous criminals as Al Capone and George 'Machine Gun' Kelly. Situated on an island in the middle of the San Francisco Bay, Alcatraz is the inspiration for myth and legend, but is rooted in historical fact. The prison in the Bay and the entire island of Alcatraz is accessible by boat and can be enjoyed year-round by visitors.
---
Convenient locations in San Francisco
In San Francisco, Auto Europe offers several pick-up and drop-off locations throughout the city, including San Francisco Airport. We work with the top, trusted suppliers operating within the city, including Europcar, Hertz, Budget and Alamo, and we even offers fantastic rates on one-way rentals in the United States. With a one-way, you can pick-up at one location in San Francisco, drop off at a different location across the city or even another city, such as Los Angeles.
Parking rates in San Francisco varies from $2.00 to $3.50. The hours of operation are displayed on the metres but most of the metres in San Francisco have a two-hour limit. Four-hour limits are currently being tested by in several neighbourhoods. About 25% of meters accept credit cards (Visa and MasterCard) and the remaining meters will accept credit cards as meters are upgraded in 2013-2014. The local council is allowed to tow a vehicle that has been parked in the same spot for over 72 hours. Another indicator is the coloured pavements. This what they mean:
Red = no parking
Yellow = commercial loading only
White = passenger loading only. Time limit is 5 minutes
Green = short-term parking. Time limit is 10 minutes
Blue = disabled parking
---
Frequently Asked Questions about Hiring a Car in San Francisco
Can I hire a car with unlimited mileage in San Francisco?
Unrestricted mileage hires are offered in San Francisco and are available through many of our reliable suppliers. Motorists should know that car hire classes such as luxury and SUV hires may possibly be subject to specific mileage restrictions. Dependent upon your supplier, these kinds of regulations may vary.
Do I need an international driver's permit (IDP) to drive in the United States?
In order to drive in the United States, an international driver's permit (IDP) is required to drive in some cases. IDP requirements vary depending on the state but we recommend an IDP for your travel in the United States to help avoid any potential problems. For additional information on IDPs and how to acquire one, contact Auto Europe at 0800 885 052.
How much does it cost to hire a car in San Francisco?
Much like airplane tickets, car hire rates are constantly shifting due to components such as market demand and the timing of your booking. While this can make finding an excellent rate on car hires difficult, Auto Europe is able to offer cost-effective rates within the industry. To ensure a great rate, we recommend you book your car hire as quickly as possible and we even provide a price match guarantee, so if the rate of your car hire decreases before the time of pick-up, we will match this reduced rate.
To view more, visit our FAQs page.
---
Useful Driving Distances and Day Trip Ideas in San Francisco
San Francisco to San Francisco International Airport (20 km approx. 15min)
San Francisco to Berkeley (21km approx. 30min)
San Francisco to Oakland (17km approx. 25min)
San Francisco to Napa (75km approx. 1hr)
San Francisco to Santa Clara (72km approx. 50min)
---