Taking you from Yosemite to Yellowstone, this road trip is for the nature lovers and the thrill seekers. You'll be in the front seat to choose your adventure, from hiking to white-water rafting, and everything in-between. Let nature dictate your entertainment. Total driving time is roughly 16-18 hours (depending on road conditions and personal travel pace).
Start: San Francisco
Finish: Yellowstone National Park
Duration: 7 Days (2010 km)
Day 1: San Francisco to Yosemite Valley
Duration: 300km - 5hrs
Starting in San Francisco, take the Highway 140 towards Yosemite Valley – as this route is at a lower elevation there's less chance of snow (always good idea to carry snow chains, though). This road is also the least winding, and it'll take about 4 hours to drive. If it's still light out when you reach the valley, you'll be greeted with scenic views of waterfalls and the iconic granite domes; as well as lush forest and crisp air.

There are a number of places you can stay the night depending on your budget and interests. For those who don't enjoy crowds or don't feel comfortable driving in the park, consider staying just outside the park in Mariposa.

Tip: Be aware that if you're planning on visiting Yosemite in the US summer months (June – September) that it'll be peak season, so give yourself extra time to explore.
Day 2: Yosemite Valley (Explore the Valley)
Wake up nice and early for a full day of hiking, exploring & sightseeing. Before you head out for the day, make sure you pack a filling lunch. The Valley has a free shuttle bus that can take you to many prime starting points for hikes and sightseeing. For a full list of attractions, click here.

If staying outside of the park, somewhere like Mariposa, then you can take the YARTS bus service into the park with park admission included in the ticket price.

Yosemite National Park is home to over 400 species of animals; see how many you can spot! Don't forget your camera to capture the true majesty of the park. Finish the day by watching the sun set, then spend the night gazing up at the twinkling stars on a stargazing tour.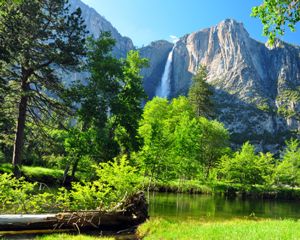 Upper Yosemite Falls
Day 3: Yosemite Valley to Norden
Duration: 400km - 4.5hrs
Today you leave Yosemite and head north to Norden, a small community surrounded by forest and year-round nature fun. Try everything from relaxing nature trails to white water rafting – there are activities to suit all adventure levels. We suggest staying the night at Clair Tappaan Lodge.
Day 4: Norden to Elko
Duration: 540km - 5hrs
Luckily for you, Clair Tappaan Lodge has a demo centre for a free trial on a range of hiking gear. Take advantage of this by visiting the centre in the morning and then going for one of a number of hikes that start near the lodge. Enjoy lunch here and then journey onto to Elko via the I-80 E where you'll be spending the night.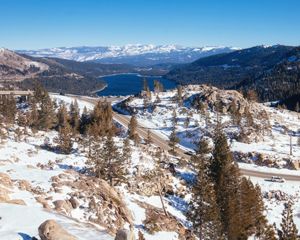 Donner Pass near Norden
Day 5: Elko to Pocatello
Duration: 445km - 4.5hrs
Wake up at Elko to views of mountains against the skyline and fill your belly before setting off for Pocatello. Stop at Twin Falls for lunch along the way, it's also a good opportunity to stretch your legs. We recommend making a detour to visit Shoeshone Falls Park to see cascading waterfalls at one of the many lookouts. Continue on from the waterfalls to Potacello where you'll be spending the night. Whilst in Pocatello, check out Zoo Idaho which features a range of wild animals native to this region.
Day 6: Pocatello to Jackson Hole
Duration: 230km - 2.5hrs
Wake up early, have a decent breakfast and make your way to Idaho Falls for a pit stop. We recommend Dixie's Diner for classic Americana grub. Stretch your legs and wander around town – don't miss the river walk where you'll spot the long stretch of waterfalls. After this, drive on to Idaho's Tetan Valley and journey through the Yellowstone Bear World in Rexburg on the way. Then stay the night in Jackson Hole.
Day 7: Jackson Hole to Yellowstone National Park
Duration: 95km - 1hr
Leave Jackson Hole and head north, within an hour you should be at the Yellowstone south entrance.

Yellowstone is the nation's oldest national park and spans 3 states. Sitting on top of a super volcano, it's home to Old Faithful, a legendary geyser that erupts regularly throughout the day, every day. The park also contains the Grand Prismatic Spring, the largest hot springs in USA. There is so much to see and do in Yellowstone, it's hard to know where to begin. Just as in Yosemite, there are a range of accommodation options available, ranging from camping to lodging.

Congratulations, you've travelled through 4 states to get here – California, Nevada, Idaho and Wyoming. No doubt you will have seen vast amounts of wide open spaces, mountainous edges and rushing rivers, as well as countless animals and plants.

Tip: Please note that in winter, driving in Yellowstone isn't feasible and it's best to travel from Elko to Salt Lake City. You'll need to leave the car there and take a tour into the park.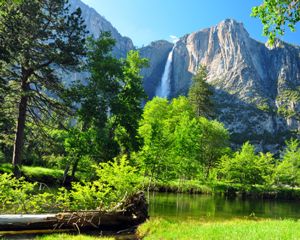 Upper Yosemite Falls
If you're ready to book car hire in the USA, give us a call on 0800 885 052 or simply book online today!