Car Rental Suppliers: First Car Rental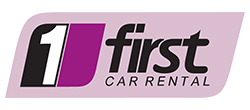 First Car Rental originated in South Africa and is a car rental company that has been in business for over 17 years. The company started in 1999 with just three branches and a fleet of 45 vehicles. They have now grown to over 51 car rental locations with a fleet of more than 6000 vehicles in South Africa, including all major South African airports, business and tourist destinations. The First Car Rental fleet ranges from no-frills models to top of the range luxury cars.
First Car Rental is one of the leading car rental companies in South Africa and they provide customers with a first-rate car rental experience in a number of great car rental locations including:
And everywhere in between!
Whether you are a tourist or travelling for business, First Car Rental will provide you with the right vehicle to get you from A to B. We proudly partner with First Car Rental to provide quality car rental in South Africa, search & compare online with Auto Europe for the best rates guaranteed!