Car Rental Suppliers: County Car Rentals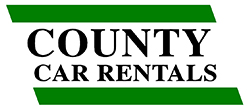 Based in Dun Laoghaire, County Car Rentals has been operating in Ireland since 1952 under the ownership and management of the Loughran family. In this time, it has grown to become the leading independent car rental company in Ireland. Today, it is owned by the largest vehicle rental company in Germany, Sixt Rent a Car, as a low-cost option for those looking to rent a car in Ireland. Sixt has a similar history to County Car Rentals in that it has been operating for 100 years under the ownership and management of the Sixt family, and has grown to become a major car rental company in Europe.
County Car Rentals has a strong presence in a number of car rental locations in Europe and Ireland including:
And many more!
County Car Rentals offers affordable car rental, with a diverse fleet consisting of vehicles from a large selection of leading brand manufacturers. The brand keeps its prices low by running efficiently and not using expensive branding or advertising which means they can pass the savings onto their customers. When booking with County Car Rentals, you can be sure to expect the same excellent customer service and experience that has made Sixt such a successful worldwide brand. Auto Europe partner with County Car Rentals in Ireland to bring you competitive rates from a number of locations - so keep an eye out for their logo when you search & compare car rental online.