---
James drove from Naples to the Amalfi Coast & shares his experience.
---
Visiting the stunning Amalfi Coast in Italy had been on my list for a long time - after seeing photos and hearing stories, i needed to be there! We spent 4 nights in Nice, which was lovely, and the night before we were about to fly to Naples I had a random thought – 'should I have just booked a transfer instead of driving from Naples to the Amalfi Coast?'. I had researched previously, and the reviews I read online said that driving from Naples to the Amalfi Coast was a difficult and confusing drive, with Italian drivers making the experience even harder. Let me just say, I am SO glad that I ignored those reviews - my experience was better than I could've imagined!

Upon landing at Naples airport we joined the other couple of people waiting for the convenient shuttle to get to the Budget rental office (glad we didn't have to drive out of the airport!). We went through the paperwork at the Budget depot and were in our Volvo V40 and programming 'Sorrento' into the GPS in no time. While it took a second to adjust, it didn't take long before I was confidently driving down the highway on the 55km journey to Sorrento.
The highway getting out of Naples is pretty standard – cruise control was a handy feature because it gave me a little more freedom to catch glimpses of our surroundings. I immediately felt goosebumps on my arm when I saw a sign to Pompeii – and made a mental note to do some research about the area when we got to the hotel. Not far from the Pompeii exit, our GPS was telling us to exit the highway even though the road signs were saying to continue. We followed the GPS and found ourselves in the quaint backstreets of Castellammare di Stabia - a welcome detour. While it may have taken longer, it was so much more interesting than driving on the highway! We even stopped for a quick break, and just had to try some delicious local Italian pastry treats.

After we left Castellammare di Stabia we came across a popular tourist spot called Belvedere di Sorrento ('bel' means beautiful, and 'vedere' means view – and that it was). This you absolutely cannot miss! The views over Sorrento are striking as soon as you approach, and it's the first cliché view of the Amalfi Coast that you will come across. Definitely stop here and take it in – these views are pretty much the norm along the Amalfi Coast, no complaints here.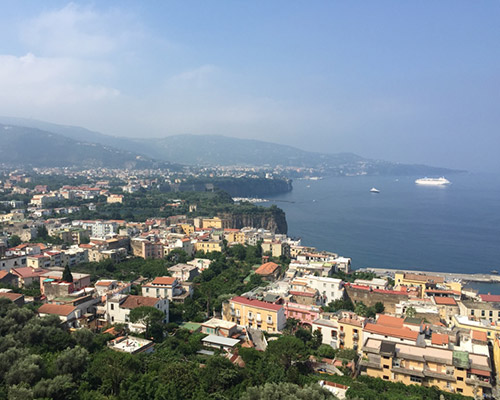 View from Belvedere di Sorrento
Sorrento is a beautiful and stunning city. It's quite large and serves as a ferry stop for people coming from Naples, so there are a few tourist groups hanging around – and I have to say because of this, we found it a little too busy and touristy. We did a quick drive around the town and headed off towards Positano.

The drive from Sorrento to Positano was easily one of the most exciting drives I have ever done. I've never felt happier just driving around the roads and taking in the stunning cliffs and rolling green hills as we navigated around the edge of the Tyrrhenian Sea. Around every corner, there was another postcard view and we found ourselves just constantly saying 'wow'.

While the roads are narrow and there are many other cars and bikes around - at no stage did I or my partner feel scared or out of our depth. It was at this point we decided we were SO glad that we didn't book a transfer or shuttle bus!

We settled into our hotel in Positano and began exploring the town. Positano is by far my favourite place in Italy - maybe even the world! Basing ourselves in Positano made it easy to do short drives to Amalfi and Ravello. Amalfi is another main coastal town, with pretty coloured houses scattered up the hills, fresh produce markets and stalls everywhere, which gave it a very local feel.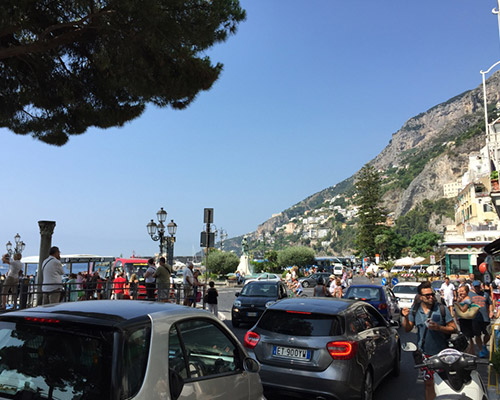 Bustling town of Amalfi
On another day we drove up the hill to a small musical town called Ravello. Here we wandered the streets and enjoyed lunch at a restaurant with the most beautiful view out over fields of produce & vegetables, and green tree tops to the sea.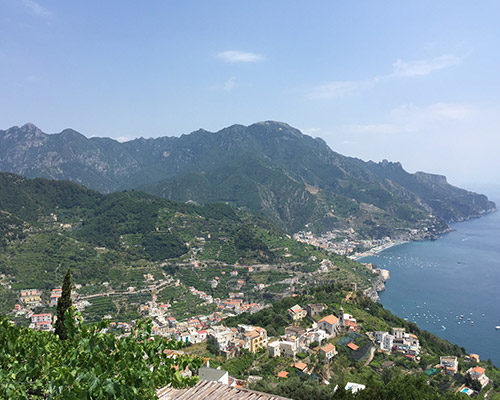 Lunch at Ravello
After 3 nights in Positano and another 3 nights at a gorgeous boutique hotel in Praiano, I was very sad to drop our little Volvo V40 back to the car rental depot at Napoli airport. I was however SO happy and thankful that we did have a car to explore the Amalfi Coast at our own leisure. You may not realise, but there is so much that you can only see and find by getting off the beaten track and just letting yourself drive. By leaving the tourists behind, you can stumble on small local villages that tourist buses and airport transfer services just don't go. And that's what travelling is about, right?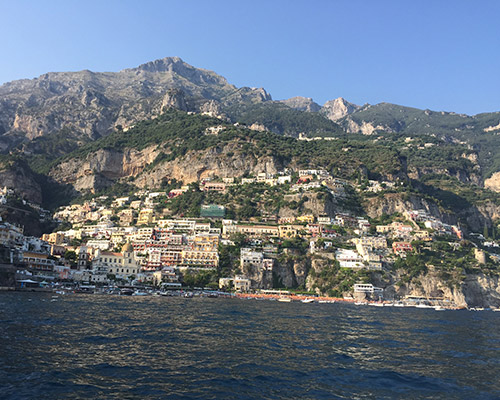 View of Positano from the water
---
My Travel Tips
Pick a suitable sized car. Partly because the roads are admittedly narrower than normal – but also because hotel parking is tight!
Choose carefully which town along the Amalfi Coast you will stay at – articles like this give a good comparison and also shows that there's something for everyone.
Prepare yourself for the most amazing (and cheap!) Rosè and pizza that you will ever experience.
There aren't many hotels with pools on the Amalfi Coast – why would you want that though, when there are many beaches along the coast to dip into the refreshing Tyrrhenian Sea.
Book yourself onto some sort of boat trip – being able to look back at the coastline really puts the whole Amalfi coast into perspective.
I'd recommend a day trip to Capri to visit the grottos – the Grottos are only open when it's a sunny day, so check the weather forecasts ahead of time. There are loads of delicious restaurants on Capri and it's easy to spend a few hours over lunchtime there.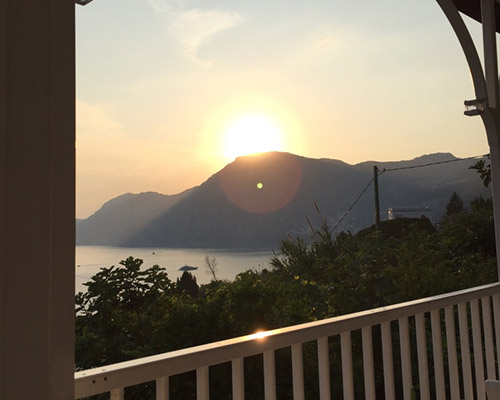 Spectacular Amalfi sunset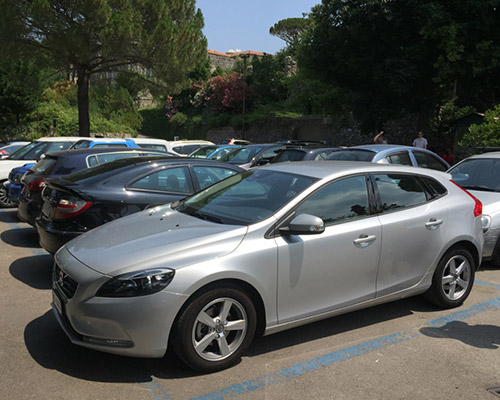 Our sleek ride - Volvo V40