Car Rental Holyhead
Discount Car Hire in Holyhead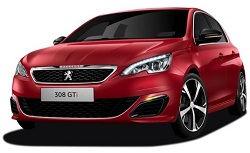 Holyhead is well known for its active ferry port for ferries crossing to or from Ireland, Dublin and Dun Laoghaire. You'll have unlimited choices as you travel to and from the United Kingdom in your car hire. Collect your Wales car hire upon arrival from the downtown depots located near or at the Ferry terminal or you can collect your vehicle hire from the Liverpool airport located east of Holyhead. Auto Europe offers several pick up locations and a large fleet selection, so finding a car hire in Holyhead is both easy and economical.
Tour with a Cheap Car Hire in Holyhead
Take yourself and your family on a beautiful scenic self drive in your car hire to the Isle of Anglesey coastal path. Here you can walk for as long as you want along the island's coastline. You will pass through enchanting landscapes where the countryside meets the shores of the coastal dunes. Check out the Holyhead Mountain which is the highest point on the island, the Lighthouse, churches and of course the wonderful wildlife.
Travelling in Holyhead with a car hire being the freedom required to have an amazing holiday. No schedules or time limits, take your time as you explore the numerous attractions and make your holiday your own adventure. Take a short drive with your car hire to the numerous beaches surrounding Holyhead. Take a dip in the waters and join in the thrills and spills or water sports available. Try your luck in a fishing trip or just relax by the waters, sink into the sand and lose yourself in your own thoughts.
Soak up some history at the Maritime Museum in Holyhead which is just a short car hire drive from the city centre. Discover the history of Holyhead with a collection of exhibits showing the maritime history and the Second World War. Don't miss out on the beautiful St Cybi's Church which is perched high above the Holyhead Harbour reveling spectacular views. Through the stunning beauty the church has witnessed many historical events and has overcome the violent challenges. Check out the artworks, stone carvings and the popular stained glass windows.
Useful Driving Distances from Holyhead
Holyhead to Manchester Airport - 183km (approx. 2hrs)
Holyhead to Liverpool - 150km (approx. 1hr 50mins)
Holyhead to Conwy - 63km (approx. 45mins)
Holyhead to Cardiff - 317km (approx. 4hr 40mins)
Hire a Car in Holyhead with Auto Europe
With Auto Europe, a car hire in the UK is both easy and affordable. You can pick-up your car hire from several Holyhead depots located in both airports and cities. Book your car hire in Holyhead with Auto Europe over our safe, reliable and secure online booking system. For more information, see our Car Hire FAQ page, check our Terms and Conditions, or Contact Us.