Auto Europe Breakdown Protection
---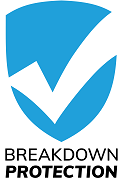 What is Breakdown Protection?
Breakdown Protection is our promise to reimburse you if your rental car suffers a breakdown, or if have to pay a damage excess on a car rental vehicle booked through us. This protection is available throughout the USA and customers should refer to the full Auto Europe Breakdown Protection Terms and Conditions, which are set out here and will be included with your booking confirmation email.
How Much Is It?
NZD10.50 per day!
What Do We Cover You For?
You will be reimbursed up to AUD4,000, for the amount of excess which you are required to pay under the vehicle rental agreement for any single incident or series of incidents under a single vehicle rental agreement in respect of breakdown or damage to the rental vehicle including:
Loss resulting from towing costs or vehicle immobilisation
Loss resulting from your inability to use the rental vehicle which is caused by vehicle breakdown, accident or damage
Loss resulting from damage to additional items rented from the hire company
Loss resulting from credit card or administrative costs
Provided that you are held responsible as declared in the vehicle rental agreement for the excess)
---
How to make a Reimbursement Application
All applications should be notified via Car Hire Refunds within 45 days of the date of the end of your rental period of any possible incident or event that may lead to payment request for reimbursement. Failure to do this may invalidate this agreement.
Please note: When completing the request for reimbursement request you must:
Respond to each of the questions in full and to the best of your knowledge;
Provide copies of the documentation requested or any additional documents or photos which will assist us in processing your request
---
Terms & Conditions
For a complete list of inclusions, exclusions and product terms, view our Breakdown Protection PDF.
Last updated 30 September 2021. All information is correct at time of print & subject to change without notice.