Car Rental Suppliers: Rhodium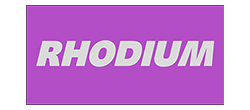 Rhodium Car Rental is a premium car rental brand for self-drive enthusiasts with almost 30 years of experience in the industry. Book confidently with a brand that offers peace of mind and a first-class product at economy prices. We have partnered with Rhodium to bring you great value rates in:
Their desks are also located at premium on airport locations for your convenience, no need to travel offsite to collect your rental car.
Keep an eye out for Rhodium rates when comparing car rental in our booking engine. You're sure to find the car you need from their huge fleet of over 10,000 brand new vehicles that are renewed annually. Take advantage of the great value nil excess rates in our biggest destinations. These rates are perfect for travelling with the ultimate confidence knowing that your vehicle is completely covered with no liability. They also offer just as impressive standard excess rates as a cheaper alternative.